KC A Cappella is a not-for-profit 501(c)(3) organization that is dedicated to providing a unique educational and musical experience for high school students around the Kansas City Metropolitan area. This organization houses the nationally ranked contemporary vocal a cappella group Sound Proof in which the members of the ensemble are introduced to the world of contemporary vocal a cappella and given the opportunity to grow as performers, vocalists and musicians.
Members of the group meet, learn, and perform with high school students outside their current high school community and perform music outside the typical high school repertoire including original compositions by our in-house composer/arranger. Additionally, members collaborate on programming, song selection, basic arranging and many other aspects pertaining to the overall success of the group as well as given the creative opportunity to perform and compete outside the standard high school choral environment.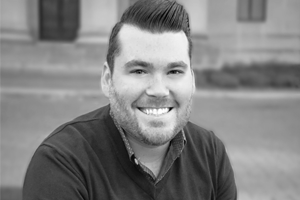 James Levy,
Artistic Director
James is originally from Prairie Village, KS and holds a bachelor's degree in Music Education from the University of Kansas. He has a long history with contemporary vocal a cappella and dreamed of one day bringing this type of musical experience to students in the Kansas City area. Outside of Kansas City A Cappella, James teaches Vocal Music in the Blue Valley School District and serves as the Director of Music at John Knox Presbyterian Kirk in Kansas City, MO. Additionally, he serves as Music Director for several productions a year through various theatre companies including Shawnee Mission Theatre In The Park, The Barn Players Community Theatre, Olathe Civic Theatre, and The Culture House.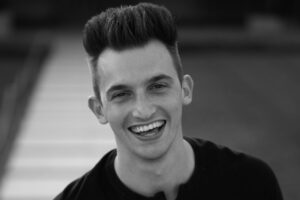 Weston Thomas,
Assistant Director
Weston is originally from Springfield, MO where he graduated from Missouri State University (MSU). During his time at MSU, he was heavily involved in the a cappella community and competed in ICCA with Varsity Vocals. Weston began his involvement with Kansas City A Cappella in 2020 and is excited to see the group continue to soar. Additionally, Weston is a seasoned performer and has performed with various theatre companies including Shawnee Mission Theatre in the Park, MTH Theatre, MTKC Pro, The White Theatre, Tent Theatre, and Springfield Little Theatre. Outside of the arts, Weston works at a local Kansas City advertising agency called EVERSANA INTOUCH.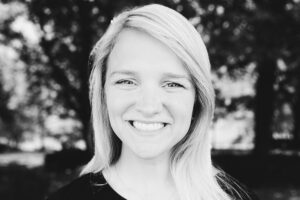 Tori Loepp,
Assistant Music Director
Tori graduated from Kansas State University with a Bachelors in Music Education and will be teaching Vocal Music at Lakewood Middle School starting this Fall. She has a love for a cappella and sharing the intricacies of music with others. She is a seasoned performer and has enjoyed the opportunity to hone her directing skills over the past few years. She recently graduated from the Kanakuk Institute and is excited to be back home making music in Kansas City!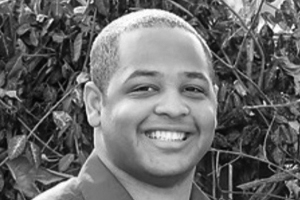 Jerry Birts,
Stager
Originally from Overland Park, KS, Jerry is a well-known performer and dancer in the Kansas City theatre community. After attending Butler Community College as a dance captain and head yell-leader for the Headliners Show Choir and the Butler Spirit Squad, Jerry has continued following his passion wherever it leads him. He has been seen performing at various theatres around KC and is currently serving as assistant choreographer for Theatre In The Park.
Board Of Directors/Administrative Support:

President, Amanda Albert
Vice President, Cassaundra Sutherland
Secretary, Allison Jones
Treasurer, Anne Haines
Website Specialist, Scott Salem
Fundraising, Shawna Pena-Downing